Located in the heart of St Albans, Christchurch, Pascals St Albans is a warm and welcoming early childhood centre offering first-class care and education to under 5s. A home away from home for children of busy families, we offer four separate classrooms to cater for each age and stage, plus vibrant outdoor areas that challenge and stimulate. Our experienced and passionate teachers build confidence, independence and resilience, through a well thought out programme of learning through play.
Get a head start with your little one's learning journey. Call us now at Pascals St Albans.
Centre Hours:
Monday to Friday: 7:45 am – 5:30 pm
Session options (4 hour minimum):
Morning (8:00 am – 12:30 pm)
Afternoon (12:30 pm – 5:30 pm)
Closed Saturday, Sunday, & public holidays
Ages Catered For:
3 months – 5 years
Silver Healthy Heart Award
You all have one of the most important jobs in the world and each of you do a great job. Happy parent!
We have loved the time our daughter has spent at Pascals St Albans.
The teachers and staff have been absolutely amazing over the last 3 years. Their dedication, creative ideas for day to day activities, communication to parents, upskilling and training throughout the year and teaching and knowledge they have passed onto my daughter has made her journey to school a very easy one!
As a mum that works fulltime, I feel very lucky to have found such a caring day care to take care of my daughter, her teachers are truly brilliant at what they do and the love for what they do shines through.
I highly recommend Pascals St Albans to all parents!!!
What's On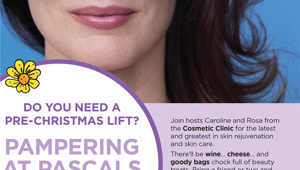 Join hosts Caroline and Rosa from the Cosmetic Clinic for the latest and greatest in skin rejuvenation and skin care.